Bioregion: West Sudanian Savanna (AT20)
Realm: Afrotropics
Ecoregion Size (1000 ha):
164,303
States: Senegal, The Gambia, Guinea, Mali, Côte d'Ivoire, Burkina Faso, Ghana, Togo, Benin, Niger, Nigeria, Mauritania
Each year, several hundred elephants migrate hundreds of kilometers from Burkina Faso in the West Sudanian Savanna ecoregion into to the Sahelian Acacia Savanna ecoregion in Mali in search of water. In the past there were even more major migrations of large mammals across this ecoregion, but these have virtually ceased due to habitat alteration and intense hunting. The W-Arly-Penjari ecosystem in Burkina Faso, Benin and Niger supports the only savannah elephant population in western or central Africa with over 2,000 elephants. Additionally, the Niokolo Koba National Park in Senegal is the last refuge of the critically endangered Derby eland which is down from 1,000 individuals in 1990 to 170.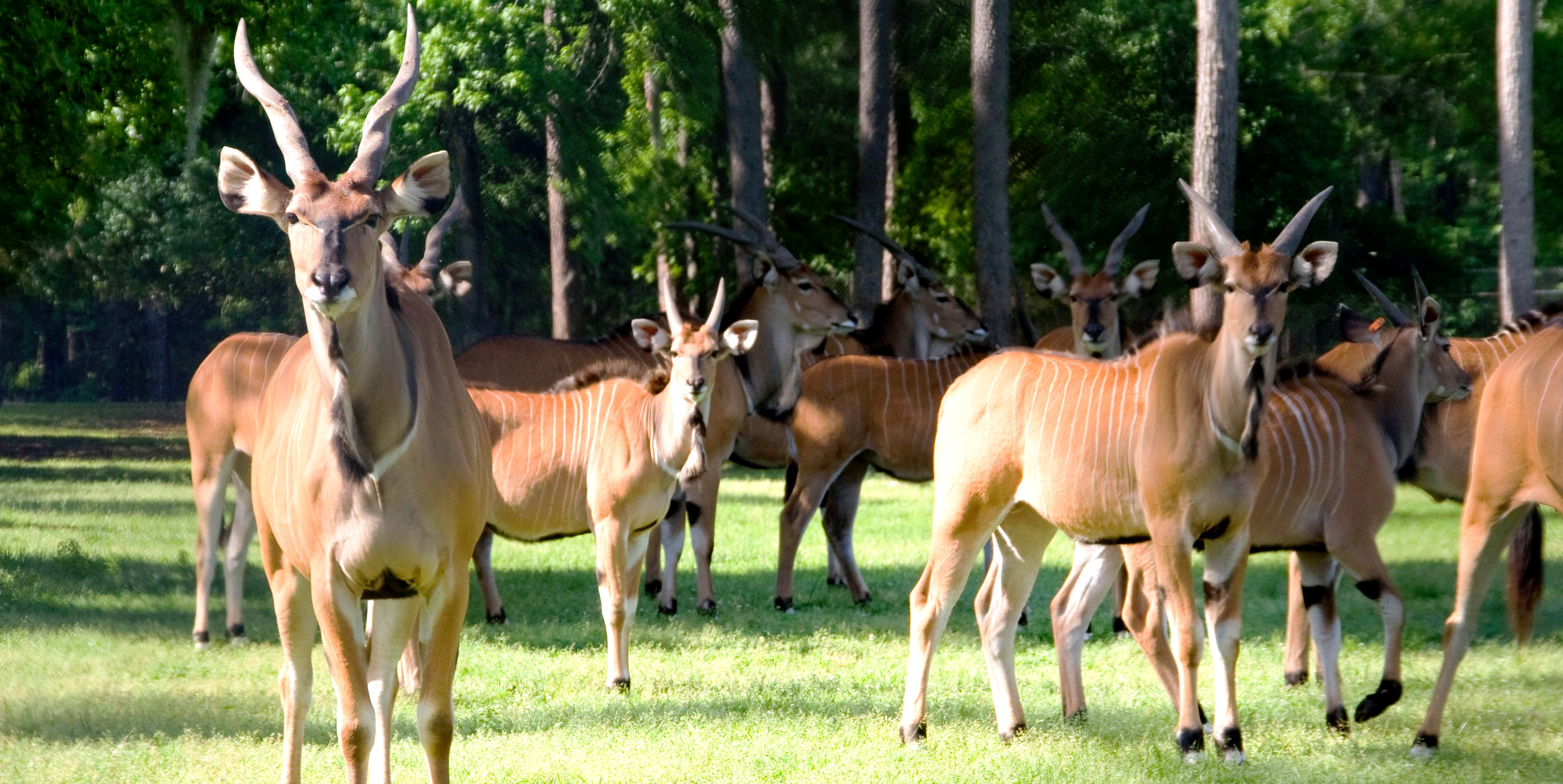 The ecoregion stretches across West Africa from Senegal and The Gambia to the eastern border of Nigeria. The climate is tropical and strongly seasonal. The highest average daily high temperatures (from 35°C to 40°C) occur in March, April, and May, while the lowest average daily low temperatures (between 15°C and 20°C) are in November and December. Mean annual precipitation ranges up to 1,600 mm per annum to the south, but declines to 600 mm on the northern border. Rainfall is highly seasonal: the dry season in the north can last up to nine months, whereas it lasts about six to seven months in the south.
Several sandstone massifs occur and contribute significantly to local biodiversity by creating a wide range of microhabitats. The Niger River drains most of the ecoregion, while the Senegal, Gambia, and Volta Rivers also drain large areas.
The vegetation consists of woodland with an understory of long grasses, shrubs, and herbs. Combretaceae and Fabaceae are the dominant plant families, with Combretum, Termininalia, and Acacai the most abundant genera. The southern portion of this ecoregion is mainly woodlands, where tree canopies cover at least 40 percent of the ground surface. The northern portion hosts mainly grassland dominated by numerous species of short grasses. Shrubland is scattered in patches throughout the ecoregion and usually consists of thorny shrubs, especially various Acacia and Ziziplus species.
Although there are perhaps 900 endemic plants in the ecoregion, most are widespread, and few are rare, threatened, or endangered. The few species with limited ranges occur mainly in sandstone massifs, including the Bandiagara Cliffs and the Manding Mountains. The rarest woody plants are the ecoregion endemics Gilletiodendron glandulosum and Kleinia cliffordiana, and the nonendemics Encephalartos barteri, Pteleopsis habeensis, and Vepris heterophylla.
The ecoregion supports a rich fauna, including a number of endemic species. Large animals include bushbuck, warthog, vervet monkey, baboon, and savanna monitor lizard. Most large mammals have been heavily hunted. Large herbivores have been nearly extirpated and survive predominantly within protected areas. These include elephant, hippopotamus, roan antelope, western buffalo, kanki hartebeest, and waterbuck.
Several subspecies of large mammals are endemic, including the western Derby's eland which survives only in Senegal's Niokolo-Koba National Park. Endemic small mammals include Senegal one-striped grass mouse, the shrew Crocidura longipes, and Felou's gundi. Additional threatened mammals are western chimpanzee, African wild dog, lion, cheetah, and West African manatee. Most exist at very low populations in a few protected areas.
Two threatened reptiles occur: the slender-snouted crocodile and the dwarf crocodile. The pronounced dry season signals the annual passage of migrant birds on the Afrotropical-Palaearctic flyway, as well as intra-African migration associated with seasonal weather changes.
There has been significant loss and fragmentation of habitat and the remaining blocks of habitat suitable for wildlife are found in protected areas or agriculturally marginal zones. These protected areas include Baoulé Biosphere reserve (Mali), Comoé National Park (Côte d'Ivoire), Kainji Lake National Park (Nigeria), Kéran National Park (Togo), Mole National Park (Ghana), and River Gambia National Park (The Gambia), as well as the transboundary areas Niokolo-Koba and Badiar National Parks (Senegal and Guinea), Pendjari Biosphere Reserve (Benin), and W National Parks and UNESCO-MAB Biosphere Reserves (Niger, Burkina Faso, and Benin).
For the larger mammals, hunting for food and for sport has removed their populations over wide areas including elephants. Urban population growth proceeds at a high rate throughout West Africa, and meat from wild animals is a popular and valuable source of protein. Thus, poaching is a potentially profitable occupation for many people.
Another major threat is the conversion of land to agriculture and the encroachment of agriculture into protected areas. The expansion of commercial agriculture has disrupted traditional forms of agriculture, which were generally not destructive of wildlife habitat. Finally, many development projects, especially dams, have directly caused considerable habitat destruction, and have led to the expansion of commercial exploitation of forest products in areas that did not previously experience such pressure.
The priority conservation actions for the next decade will be to: 1) strengthen enforcement of the park system including increasing anti-poaching measures; 2) establish and implement sustainable agricultural practices and prevent encroachment into protected areas; and 3) promote sustainable management of habitats in cross-border corridors, for example, transfrontier elephant ranges.

Citations
1. Burgess, N., Hales, J.A., Underwood, E., Dinerstein, E., Olson, D., Itoua, I., Schipper, J., Ricketts, T. and Newman, K. 2004. Terrestrial ecoregions of Africa and Madagascar: a conservation assessment. Island Press.
2. Camara, M., Gbemavo, C.D., Salako, V.K., Kouame, F.N., Sambou, B. and Kakaï, R.L.G. 2016. Woody plant species diversity in the last wild habitat of the Derby Eland (Taurotragus derbianus derbianus Gray, 1847) in Niokolo Koba National Park, Senegal, West Africa. International Journal of Biodiversity and Conservation. 8(2), pp.32-40.
3. Federal Ministry of Environment. 2015. National Biodiversity Strategy and Action Plan. Nigeria: Federal ministry of Environment, Federal Republic of Nigeria.
4. Chase, M.J., Schlossberg, S., Griffin, C.R., Bouché, P.J., Djene, S.W., Elkan, P.W., Ferreira, S., Grossman, F., Kohi, E.M., Landen, K. and Omondi, P. 2016. Continent-wide survey reveals massive decline in African savannah elephants. PeerJ. 4, p.e2354.