How mangroves provide coastal resilience in the Global South
How do ancient knowledge and local livelihoods act as drivers for mangrove conservation across the tropics? Five journalists joined efforts in a cross-border research project — supported by the Earth Journalism Network — to report on the state of mangroves and coastal resilience in Latin America, Africa, and Asia.
Mangroves can be seen as the roots of men and women to the sea, which is why the 'Mangroots' project aimed to explain how bottom-up community and nature-based practices can build coastal resilience in the Global South.
Asia: Healthy mangroves build a resilient community in the Philippines' Palawan
In the Philippines, aquaculture development, pollution, and climate change are imperiling the country's mangrove forest, which decreased from 500,000ha in 1918 to 303,000ha in 2015. The article will examine these problems through Malampaya Sound, a protected area dubbed the country's fishbowl. In 2021, a roadmap was conceived to increase the country's mangrove cover by at least 20% in 2030. Keith Anthony Fabro traveled to Palawan just before the rainy season hit to get a glimpse of the situation in Malampaya.
Locals give the impression that Malampaya Sound is a place where mangroves and coastal communities coexist harmoniously. But getting here took a long, tough journey. For decades, people showed little regard for this rich ecosystem until the damage reached a point where it was clear that catches were declining in step with the mangroves. Only in the past ten years has a broad shift in attitudes taken place, as local communities and environmental authorities work together to save this so-called blue forest.
One key finding of this research was that some locals believe that the enormous mangroves are hosting evil spirits, so out of fear, the Tagbanua people don't linger in the mangrove forest, staying just long enough to gather food and sparing this ecosystem from destruction and unsustainable resource extraction. Eric Zerrudo, director of the Center for Conservation of Cultural Property and Environment in the Tropics at the University of Santo Tomas in Manila, says this belief exemplifies Indigenous people's deep spiritual relationship with their natural environment, which gives them their "own set of protection and management with regards to their landscape."
Africa: Kenya and Ghana struggle with mangrove wood trafficking
In Kenya, rising demand for wood products, real estate, and clearing for salt extraction caused the loss -between 1985 and 2009- of about 20% of its mangrove cover. 2/9 species in the country are disappearing. In an effort to reverse the trends, in 2018, the government enforced a logging moratorium on all forests. Caroline Chebet looked into the efforts in place along the coastline to highlight the adoption of the National Mangrove Management Plan by the Lamu, Mombasa, and Kilifi Counties.
In this East-African nation, locals are restoring degraded areas and working with government agencies such as the Kenya Forest Service (KFS) to keep off those illegally felling mangroves for poles and firewood. "Kipini was beautiful. It still is. However, the shoreline has been eroding quickly and washing away huge chunks of land. This is not good. We must act now", said Riziki Bwanake, a member of the Kipini Community Forest Association.
It is expected that a large acreage of mangrove forests along the Indian Ocean might be cleared to pave the way for ports, and there are also incidences of private salt farms releasing toxic wastes, mostly hyper-concentrated salty water, back into the sea. Such highly concentrated water kills fish and mangroves along its way.
Luckily, initiatives like the one led by Mida Creek Conservation and Fishing Awareness Group, with close to 90 members, are restoring degraded areas and engaging in clean-up activities. The members practice beekeeping to increase surveillance within the forests and use the money paid by those visiting the creek as well as what they earn from providing tour guide services and bee-keeping to run their activities.
Conservation activities include The Restoration Initiative (TRI) funded by Global Environment Facility through UNEP: TRI's project in the Tana Delta is a five-year project being implemented by Nature Kenya and covers the Tana River and parts of Lamu County. It integrates natural resource management and restoration of degraded landscapes within the country's largest delta.
Other community-led activities are the carbon offset projects in Gazi and Makongeni villages on the South Coast. The project started in 2013 and is now being replicated on other shorelines in Vanga, Kwale. Under the projects, communities plant mangrove forests and sell carbon credits to international emitters of carbon dioxide to offset the huge amount of carbon they release into the atmosphere.
"Participatory forest management plans that will guide the conservation, as well as benefit sharing strategies between the communities and the Kenya Forest Service, have already been drafted," says George Odera, Tana Delta Restoration Initiative project manager. According to Mr. Odera, with communities being aware of the changing ecosystems, their involvement in building coastal resilience is critical, and they are able to bounce back and work towards reversing the negative impacts brought about by the changing ecosystems: "Coastal communities have witnessed these changes and what matters is that they are part of a journey of building resilience and sustainably doing so," said Mr. Odera.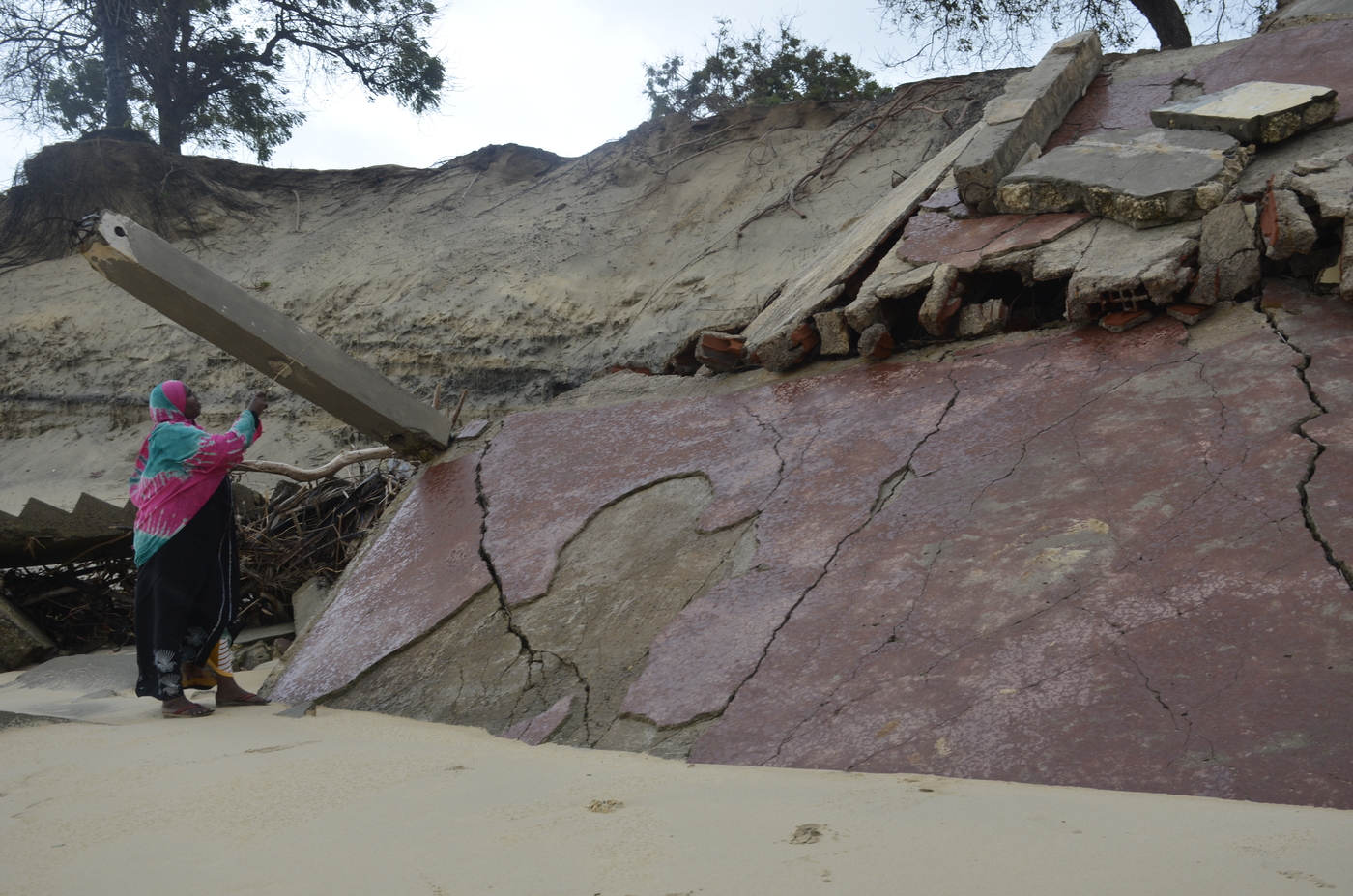 While in Ghana, major Ramsar sites Keta Lagoon, Songhor, Sakumono, Densu-Delta, and Muni-Pomadze have been facing rapid degradation, and there are fears that in the next decade, Ghana will lose its wetlands entirely to aggressive real-estate developments. Jonas Nyabor examined why different programs by governments and NGOs to restore mangroves have yielded very few results and tried to find what could be the missing piece in ensuring actual change on the ground by local communities.
There is no regulatory regime that requires those who cut mangroves to be licensed to do that.
The effects of unsustainable mangrove harvesting aren't lost on community folks. At least within the Keta Ramsar enclave and the Amanzule Ramsar enclave, artisanal fisher folk witnessed a decline in their catch, and the same is happening for crab, shellfish, and shrimp catching.
At Fiahor, on one of its project sites within the Keta Ramsar enclave, the organization Sea Water Solutions has planted over 100,000 mangroves and has a 200,000-capacity nursery in the works for what they hope will revolutionize the way mangroves are managed in the country due to their significance to the environment.
"You are likely to fail if you don't get them [community] involved. No man will stay and see himself go hungry when they can cut mangroves and get satisfied. You can't say you are ignoring their needs in terms of benefiting from mangroves then succeed in growing mangroves. You need a balance. That is why you need to educate them and also get initiatives that provide them an alternative source of livelihood such as tilapia farming," said Raphael Ahiakpe, the Ghana country director for Sea Water Solutions at Attorkor in the Volta Region.
By the end of 2022, this organization was hoping to plant 200,000 mangrove seedlings covering 50 hectares of degraded mangrove forests within the Greater Amanzule Wetlands in the Western Region alone. It has put up nurseries where mangroves are being nursed by locals at a fee of $5 for later planting in the open field where mangroves have been indiscriminately harvested. The expected carbon capture of the project is 1.8 million megagrams in the long term and will be paid by corporate polluters to cultivate mangrove forests.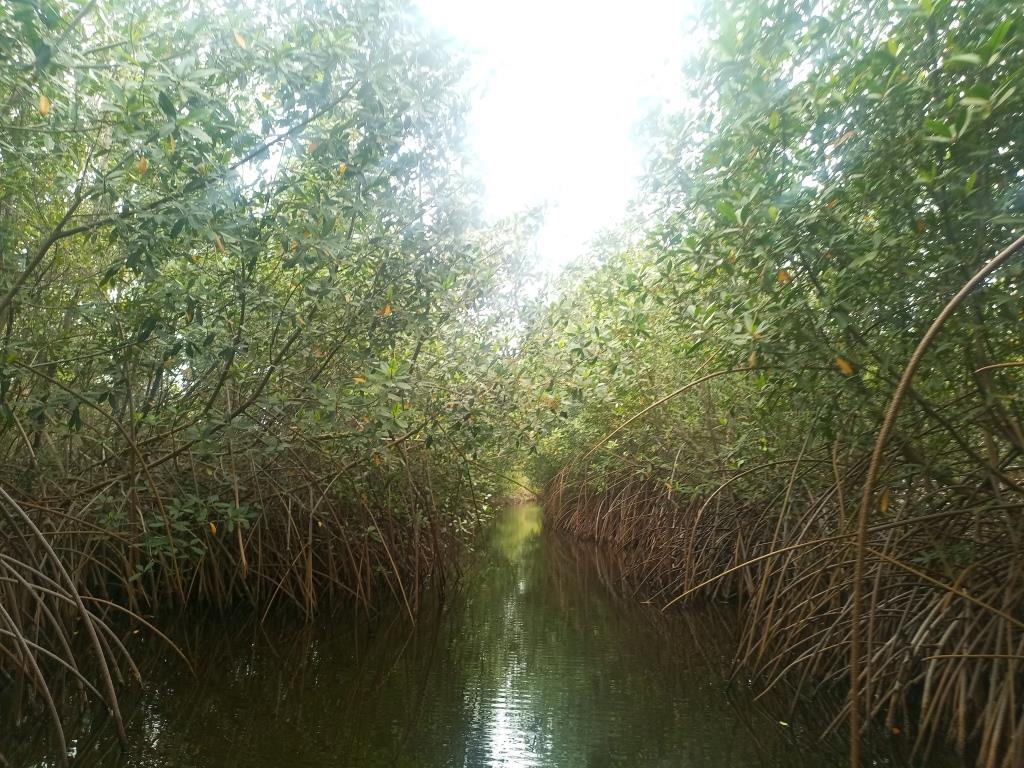 Latin America: Hurricanes in Colombia and El Salvador bring awareness on mangrove conservation
Colombia suffered in 2020 the passing of hurricane Iota through the island of San Andrés, leaving in its wake massive destruction to people's homes. However, collateral damage that hasn't been covered by the media is the one suffered by the coral reef and the mangrove barrier, the first and second line of protection of the sea to the coastal communities. María Claudia Dávila traveled to the only insular department of Colombia, where there are projects focused on restoring several affected mangrove areas after the passage of Hurricane Iota. These aim to make a difference, despite the slow recovery of the ecosystem.
On November 16, 2020, Hurricane Iota would pass through the archipelago of San Andrés, Providencia, and Santa Catalina. The Category 5 cyclone was devastating not only to the island's infrastructure but also to the mangroves, an ecosystem that acts as a barrier against extreme weather events on this portion of land located within the Caribbean hurricane belt. That location makes it vulnerable to the impact of extreme hydrometeorological events, as happened again on October 8, 2022. On that date, another cyclone called Julia, classified as category 1, from Central America passed through the island.
Degraded mangroves leave people and associated ecosystems defenseless, as they protect coastal communities from storms and hurricanes and, at the same time, maintain an ecological balance in the area where they grow. Fortunately, two projects arose in this insular department focused on restoring various areas of red mangrove affected after the passage of Hurricane Iota. These aimed to make a difference, despite the slow recovery of the ecosystem.
A key initiative discovered is the one that took place at the Luis Amigo school and was financed independently by the young people who proposed it: Jacobo Howard and Giuseppe Barraza, both 16 years old. With an approximate budget of 20 dollars, the young people built a nursery with brackish water in Jacobo's house south of San Andrés. They have planted 298 propagules and plan to plant them in an area of 10 square meters next year. In this way, in the first mentioned initiative, the regional one, Más Bosques, transported around 7,000 propagules of this mangrove species from the Old Point Park in San Andrés to Providencia to be planted with the help of various residents.
Climate inequality is a reality in Colombia, and those who suffer poverty in multiple dimensions, as occurs in the archipelago, are the ones who suffer the most from its effects. After Cyclone Julia passed through the archipelago, many questions remain about the future of the mangrove, especially during the management of a government that promises reforms in environmental policy, particularly regarding the measures taken with Iota to advance climate resilience issues. It will also be necessary to see in the future what the measures will be to mitigate not only the impact of hurricanes but also the garbage and logging that affects the mangroves in the area.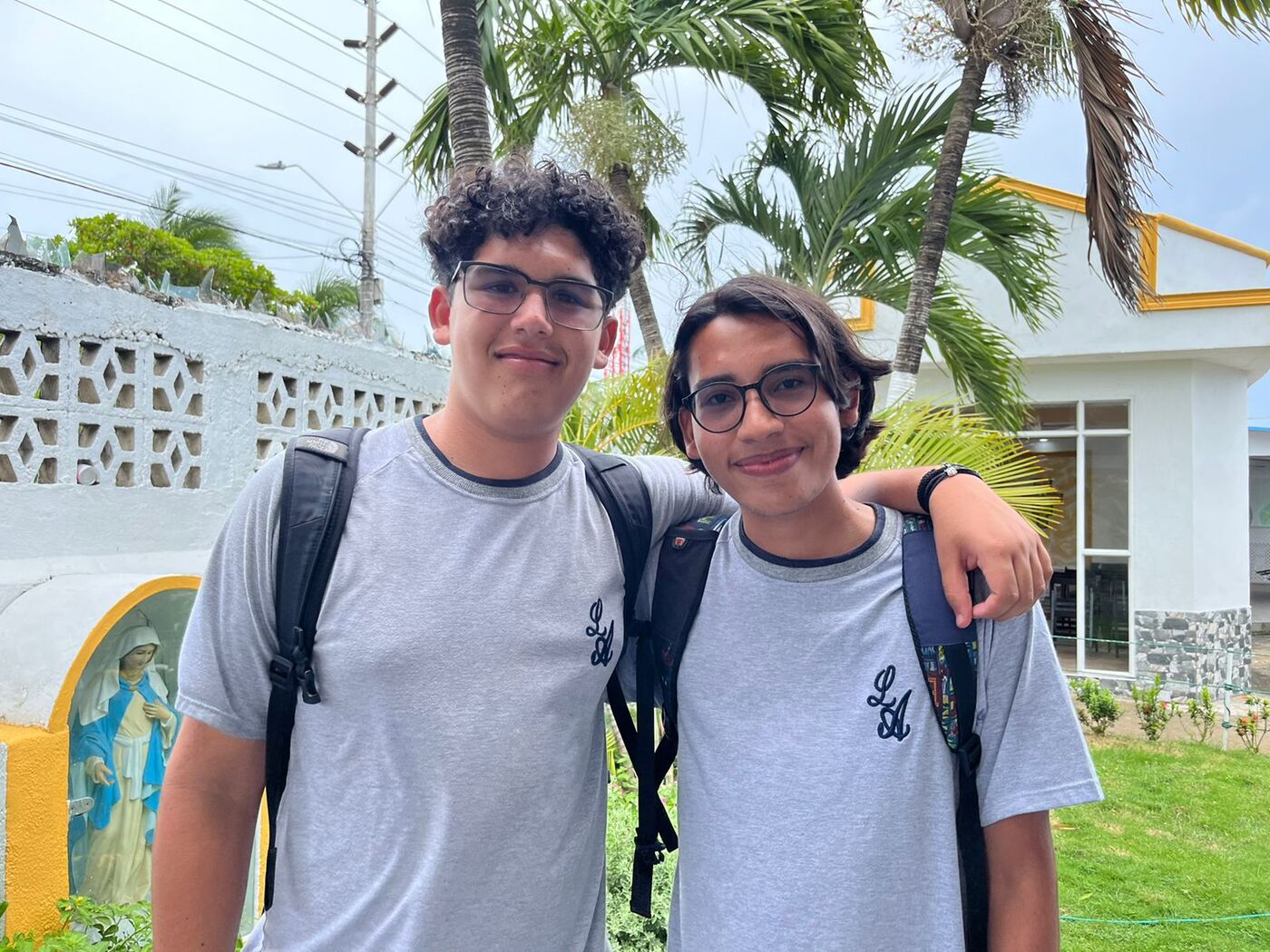 In El Salvador coastal erosion, sea-level rise, and biodiversity loss severely affect the communities of the western side of the country. IUCN is carrying out a lighthouse regional coastal biodiversity project for the management of marine-coastal ecosystems in Central America. Julián Reingold visited the lower basin of the Río Paz mangrove forest estuary, which needs restoration to increase eco-services such as beekeeping and other livelihoods that are supporting communities in Barra de Santiago.
Despite the damage caused by Hurricane Julia in 2022 across the country, severe rain around the Barra de Santiago mangrove only caused limited floods. But, mainly in the past 30 years, unrestricted urbanization, cattle grazing, the sugarcane industry's expansion, as well as the increasing demand for wood have caused deforestation and alterations in the hydrology of the area, as well as pollution. This ​​mangrove, although designated as a Ramsar site - the international treaty for the conservation and sustainable use of wetlands - was reduced by 50%, impacting communities.
In order to try to save this natural protected area, the International Union for Conservation of Nature (IUCN) is carrying out the Regional Coastal Biodiversity Project in a part of the country that is also recovering from the 12-year Salvadoran civil war (1980-1992), which turned it into one of the less developed countries in the North Triangle of Central America.
"Coastal resilience consists of adapting to changes and raising awareness about the importance of this ecosystem'', says Luis Quintanilla, a technical officer from AMBAS, an NGO that is leading a collective effort that has restored - with the support of IUCN - a total of nine hectares of mangroves so far, out of the 42 hectares expected to be under better management for when the project finishes 2024.
Salvadorans comprise the second-largest migration flow from Central to North America, mostly due to a lack of job opportunities and gang violence. The outcome of ambitious projects such as this could provide nature-based solutions for vulnerable communities to root in their territories rather than flee the country.
The Regional Coastal Biodiversity Project is planned from 2017 to 2024 and also implemented in other coastal sites of Guatemala and Honduras. According to IUCN, in four years, the project has managed to reduce the pressure on marine-coastal resources in this region. However, there is still a lot of work down the line, and communities need to count on local and national governments support once the project concludes.
The biologist and regional coordinator of the Regional Coastal Biodiversity Project, Zulma de Mendoza, considers that this project "articulates the link of greater conservation and management of resources by guaranteeing sustainability, reducing threats to biodiversity, making communities and ecosystems more resilient. Resilience is like walking on the mud and roots of the mangrove swamp: You can either slide, sink or learn to walk".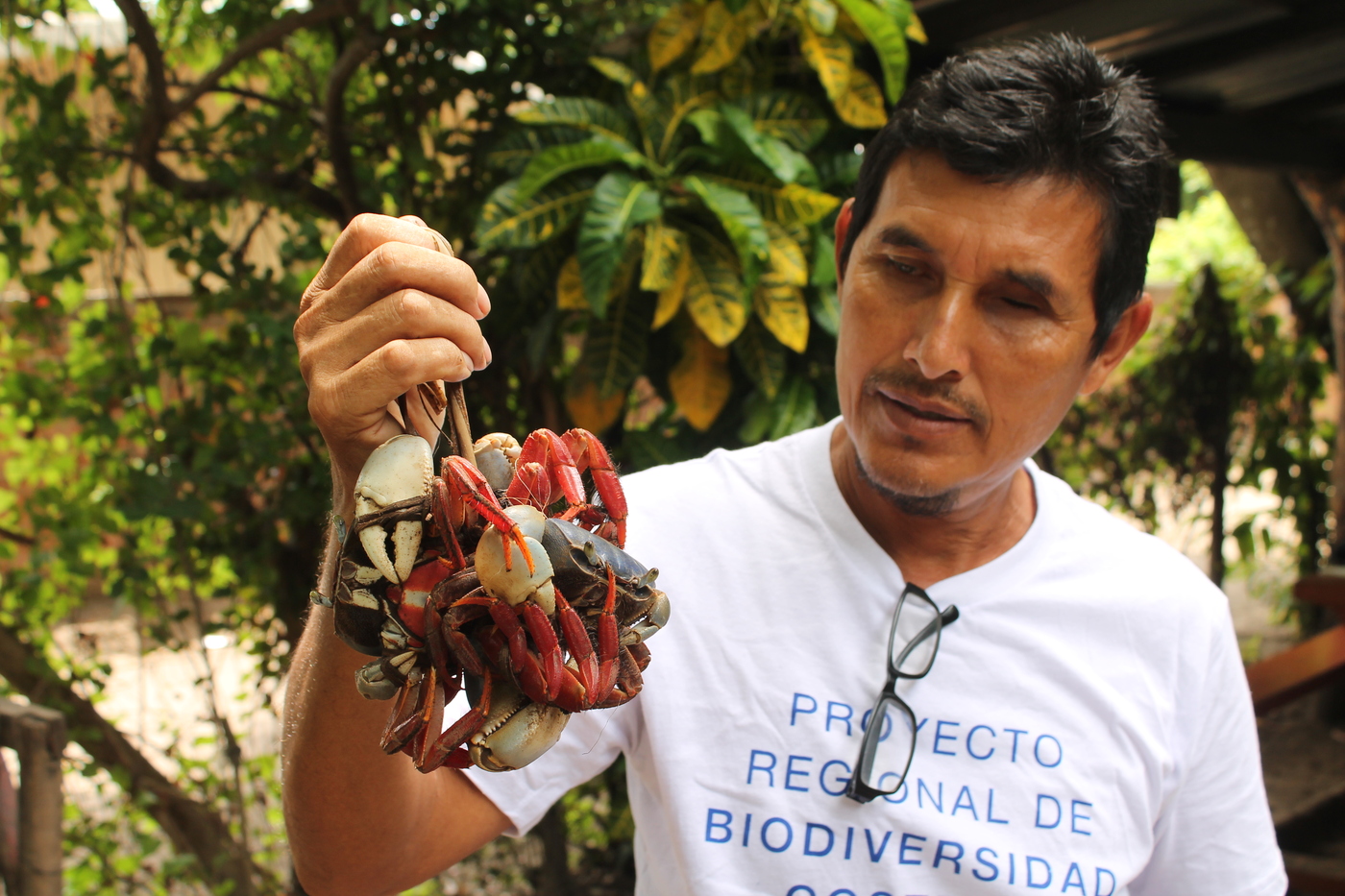 Rooted in the sea: some project's conclusions
Although the reporting took place on three different continents, the main common challenges were the unpredictable weather and finding sources, as many of the local residents involved in cutting mangroves for fuel wood were aware of their importance to the environment, and so they were not willing to go on record in an interview to speak about their activities. Another implicit goal was bringing environmental journalism to broad and young audiences in our different countries.
Finally, we can say that our main common discovery was that scientific knowledge is something that can be learned, and economic resources do not have to be an impediment to achieving big things. We hope this cross-border mangrove research experience could inspire other journalists to report on other vital under-reported aspects of coastal resilience, such as food security, disaster-readiness strategies, and seagrass vulnerability to climate change.
This story was produced with support from the Internews' Earth Journalism Network.
July 23, 2023